Dogs are man's best friend for a reason. They provide us with love and companionship that can lift our spirits when we need them most. If you have been thinking about taking your dog on an adventure, perhaps a road trip or a vacation, this article is for you. Keep reading to learn how to travel with your dog in tow.
Previously, traveling with your dog was considered taboo for many reasons. However, times have changed and traveling with your pup is a lot easier than ever before. There are countless hotels that accept dogs. There are also pet-friendly vacation rentals that allow dogs to stay for a nominal fee or require no additional deposit.
Whether you're planning on staying at one of these pet-friendly hotels or renting an Airbnb, there are some things you need to know before hitting the road with Fido.
Make Sure Your Dog is Up-to-Date on Shots Before You Travel
Visit your veterinarian at least 10–14 days before you travel to make sure that your dog has received all of their vaccinations. This is also a great time to schedule your pet's wellness checkup.
Common vaccinations for your dog when traveling include the rabies vaccine, which is required by law in every state.
Other common vaccinations include canine influenza, bordetella (also known as "kennel cough"), and canine parvovirus.
Keep in mind that these vaccines need to be given at least 14 days prior to your trip.
Additionally, you want to make sure to keep your pet up to date on its regular vaccinations (annually) during the year. If you are taking your dog on an airplane, they will need a health certificate.
When you are visiting a country where your dog's breed is prohibited, make sure to research the laws beforehand to avoid a stressful situation at the border.
Bring your dog's medical records with you in case you are asked to show documentation.
How to Travel with a Dog: Microchip Your Pup Before Traveling
If you're taking your dog on a long car ride or vacation, it's important to get them microchipped before you leave. If your dog gets lost during the trip, the shelter or vet will be able to scan their chip and get your contact information.
You also might want to consider getting a dog GPS tracker to make sure they won't get lost. This is especially important when you are hiking with them or letting them roam in a dog-friendly park.
A microchip is a tiny computer chip that is inserted into your dog's shoulder blades. It's a non-invasive, painless procedure that only takes a few seconds. Most veterinarians offer microchipping services. Be sure to ask about it if you don't have one yet.
This is a great alternative to a regular collar, especially if your dog likes to go exploring. If your dog gets lost, a microchip can help them get home much faster than a regular collar can.
How Does Micro-Chipping Work for Pets?
Micro-chipping is a very small device that a vet can implant underneath the skin on the back of your pet. The chip is about the size of a grain of rice. It emits a small radio signal that can be detected by a scanner to identify your pet.
If your pet is ever lost or stolen, a shelter or veterinarian can scan the chip to read its unique code and find your pet's information in the pet database. Most of these chips come with an expiration date. Once the microchip expires, you can opt to have it removed and replaced with a new one. You can also change the information in the database if you move or change your phone number.
Make Sure Your Dog is Certified to Travel
Are you taking a trip on a plane? There may be certain requirements your dog needs to meet before being allowed to board a plane. One of those certifications is the Certificate of Veterinary Inspection. If you're taking a flight with your dog, they will likely need to be certified to travel by a veterinarian.
There are a few diseases your dog might have to be cleared from before boarding a plane. This is including leishmaniosis and tularemia. You can learn more about these and other diseases by reading The Centers for Disease Control and Prevention's website.
If you're driving with your dog, you don't have to worry about them being certified. However, you will have to ensure that your dog is up to date on their vaccinations for rabies, kennel cough, and distemper. Depending on the length of your trip, you may want to also have your dog vaccinated for other diseases like parvo.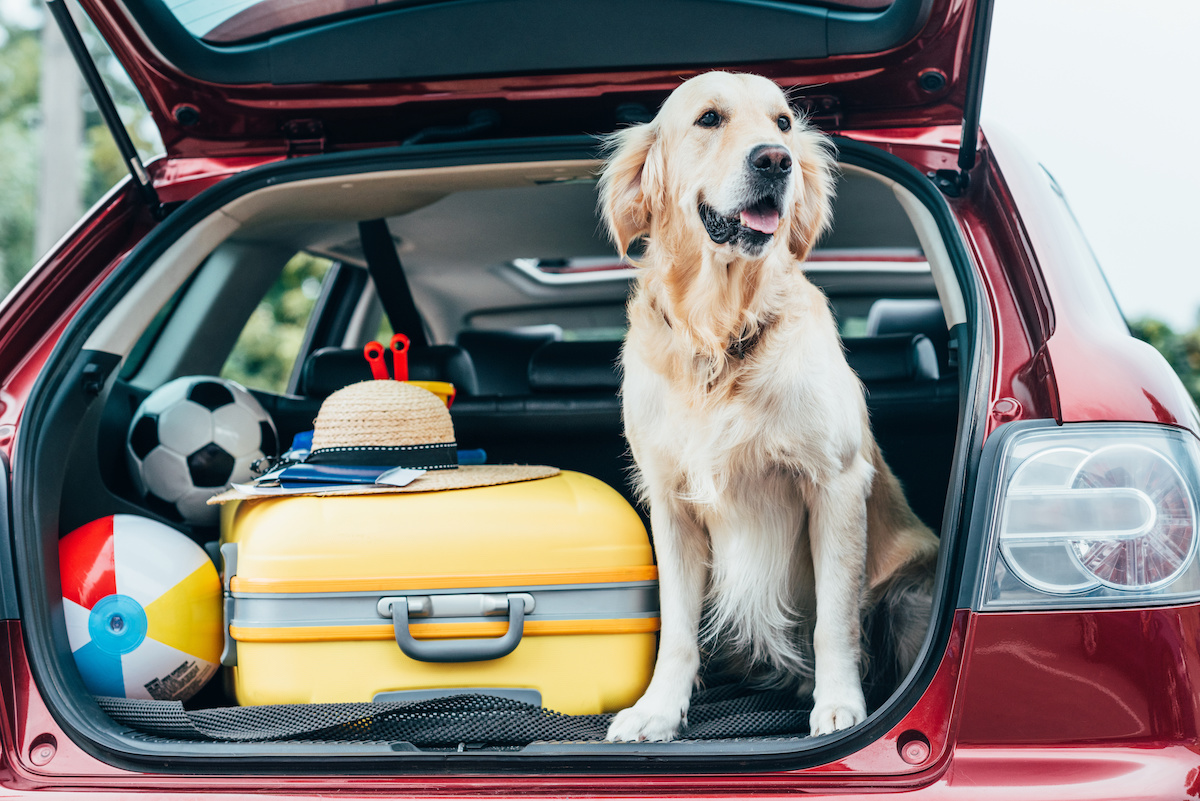 Plan your Route Carefully
Are you wondering how to travel with your dog? Depending on the length of your trip, you'll want to make sure you plan your route carefully. You don't want to push your dog too hard. You also don't want them to spend too much time cooped up in the car, either.
If you're doing a long road trip that lasts more than a few days, make sure your dog has plenty of breaks. A good rule of thumb is to let your dog out every two hours to stretch their legs and get some fresh air.
If you're flying with your dog, you'll have to plan their route even more carefully. Flying with your dog can be a bit more difficult than driving with them. You'll have to make sure the airline you're flying with allows your dog on board.
Bring Plenty of Water and Food
This one might seem like a no-brainer, but you'd be surprised by how many people forget to bring water for their dog while traveling. Your dog will likely be thirsty after being cooped up in the car for hours. Make sure to have plenty of water on hand for your dog.
If you're driving with your dog, you can give them some bottled water in a bowl.
When you're flying with them, bring water for them in a travel-approved bottle.
Remember to bring their food as well. If you're flying with your dog, make sure you bring their food in a resealable bag to keep it fresh.
Don't Forget the Poop Bags
It's important that you don't forget the poop bags while traveling with your dog. You don't want your dog to leave a trail of poop wherever you go. You'll need to have the poop bags on hand not only for when your dog needs to go to the bathroom but also for when you're out on walks.
If you're road-tripping with your dog, you can use the same bags you use for picking up after yourself. Make sure you have plenty of bags on hand so you don't have to go without them.
Bring the Collars and Leashes
It's important that you don't forget the collars and leashes while traveling with your dog. You'll need to have a collar on your dog while they're in the car. You don't want them to get loose while you're driving.
If you're flying with your dog, make sure you have a car seat for them. Small dogs can fit into large bags or purses.
When you are driving with a dog, be sure they aren't able to jump into your lap while you are driving. You may want to consider putting them in the back seat with a cover that blocks access to the driver's seat.
You know your dog better than anyone else. Consider how he or she behaves in the car and plan accordingly.
Schedule Your Dog for Vaccines & Microchipping Before Traveling
Before you and your pup hit the road, make sure you do your research. Knowing the laws of the state or country you are traveling to is imperative when traveling with your dog. Make sure to check out the CDC website on state and city health codes. You'll need to know what the requirements are when it comes to vaccination and licensing.
Don't forget that your dog can be a great traveling companion! With these tips, you'll be able to travel with your dog in tow with ease. If you have questions on how to travel with a dog, please get in touch with us today.
Are you ready to get your dog up-to-date on vaccines and microchipping before travel? Contact us at Animal Care Center to schedule an appointment now.